Artist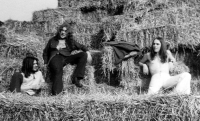 Bone
Albums
Pictures
History
Bone originated from Gilberdyke in the East Riding area of Yorkshire. They recorded several original songs at Fairview studios with Keith Herd circa 1972/3. Nigel Rudd was later replaced by Tony Carter after Paul Mooney had also left the band. Bone then became a trio calling themselves Zhain in 1973. Keith Jordan joined as lead vocalist later that year. John Milner eventually joined Qyl in 1975. This band operated out of Leeds, playing locally around the Leeds/Bradord area in the North of England. Qyl recorded three tracks at Holyground studios for Mike Levon (http://www.holyground.co.uk/). Three songs were released by the independent record label via a compilation project. In 1976, Milner regrouped with old members of Bone and the group performed as Zhain in 1977. Other original members of Bone (Jeff Parsons, Robert Eunson, Tony Carter) went onto form influential punk band, Dead Fingers Talk whose LP was produced by Mick Ronson (Spiders From Mars, etc..). Vocalist, Robert Eunson was also known as Bobo Phoenix (stagename). Milner meanwhile formed The Hots which featured Martin Atkins on drums soon to leave to form Pil with John Lydon (aka Johnny Rotten). Milner then forms Stolen Pets featuring Andy LInklater from Dead Fingers Talk. Milner then formed bands such as Action Faction, Laugh In Fear, This Virgin Sleep.
Further information can be found at:
Members
Tony Carter (drums), Nigel Rudd (drums), Rocky Norton (bass guitar), Fred Norton (bass guitar), John Milner (guitar, vocals), Jeff Parsons (guitar, vocals), Paul Mooney (vocals), Robert Eunson (vocals), Keith Jordan (vocals).
Copyright Notices
Main photo: Zhain, 1973.
All recorded and photographic material kindly supplied by John Milner, Keith Herd.
All recorded and photographic material copyright J. Milner/Zhain. 2012.
Special thanks to: John Milner, Keith Herd.